After some head-scratching with Nick @Neuhaus_Metalworks and an Ekar Crankset, we came to the realization that the industry had secretly adopted 85.5mm as their T47 Internal Bearing (IB) BB width.
The standard was 86.5mm
Paragon BB shells arrive at 87.5mm to give you some wiggle room to square up the distortion
After clean-up, the BB shells are typically 87mm wide
Turns out the standard is now 85.5mm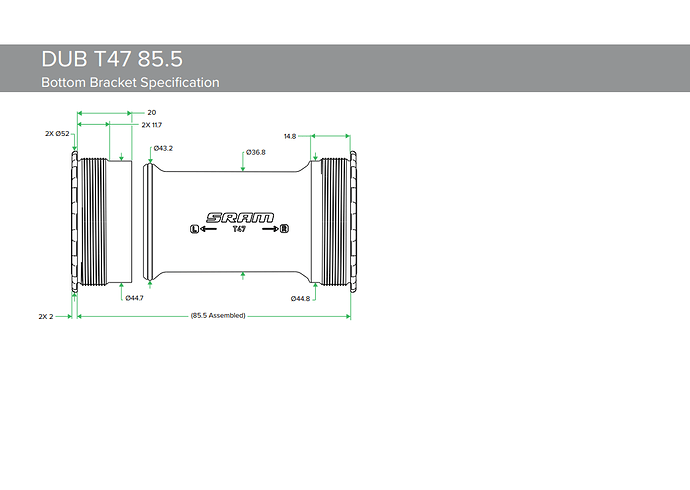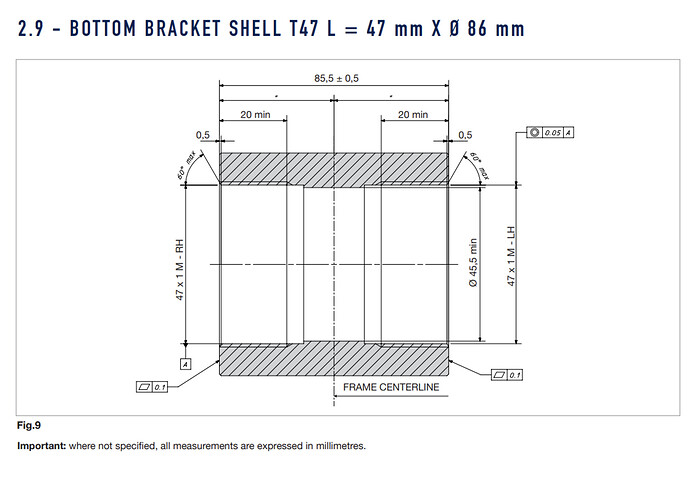 This is how I think it went down:
2015 T47 is born at 86.5mm
T47 is introduced with the help of Argonaut, Chris King, and PMW:
The idea was to take the PF30 shell and make it threaded. Technically this was to allow you to thread PF30 BB's after building. but I have only seen someone do this once.
T47 adopted both the diameter and width of the PF30, which is 86.5mm
~2019 Trek enters T47 at 85.5mm
Trek was the first major bike brand to adopt T47 on one condition: they changed the bb width to 85.5mm to allow more tool purchase on the BB splines. Their argument was that for mass production, they needed an extra .5mm of flange width on the BB. They partnered with Praxxis for their OEM BB's.
They also argued that having a narrower BB shell was not an issue for their frames. It would be compatible with all existing BB's because most cranks can take up 1mm of spindle length or at worst, you use a spacer.
Source: article on Cyclingtips (no longer exists).
2019-2020 Drivetrain companies adopt 85.5mm
Campy and SRAM are the only drivetrain manufacturers that officially adopted the T47 standard. Both use 85.5mm for their T47 nominal width and 86.5 for the PF30 width. Since SRAM works closely with Trek, I'm sure this was the plan all along.
So there you have it, T47IB is officially 85.5mm wide. So give your T47 facing tool a few extra turns and let your parts suppliers know!