Sadly, I don't think I will be able to make this one, but it seems like a great grass-roots event: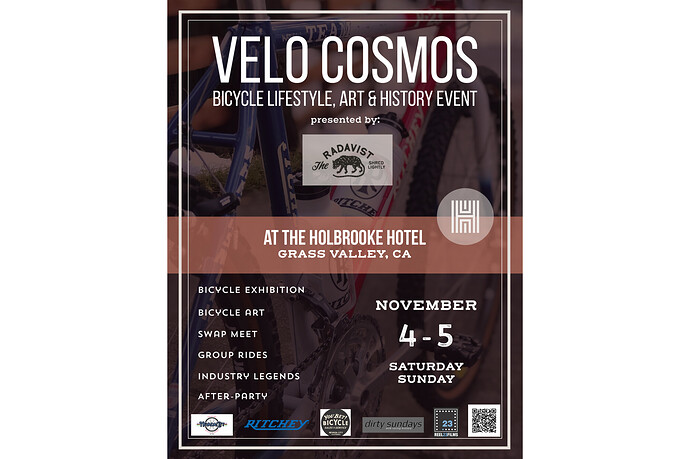 Per Radavist:
Dirty Sundays is collaborating with the historic Holbrooke Hotel in Grass Valley, CA to organize a new exciting bicycle event that reflects the lifestyle and history of riding bikes in our community and around the world.
The event will dive into the past and share the evolution of bicycles with an exhibition of 40 bikes from different decades, all the way to modern hand-built custom bikes. There will be Vendors with bicycle-related artwork like jewelry, paintings, photography, etc.
Tom Ritchey and other industry legends will be attending and Tom himself will give a speech about the book of his mentor and friend, Jobst Brand. On Saturday and Sunday mornings there will be group rides that will take you around this scenic Victorian town and explore the past relics of Grass Valley's rich mining history.
There will also be a swap meet outside with vintage and modern parts where you can possibly make some great deals!
Reel23Films will be filming during the whole event and preserve all the memories in a short video.
And of course, the Holbrooke Hotel will be offering awesome food and drinks in the oldest, continuously operating Hotel in California, and don't miss the After-Party at the Iron Door bar downstairs!
See more at Dirty Sundays.