If you design bikes with flat or alt handlebars then you should know the actual dimensions of those bars to accurately display them in BikeCAD for your design. Very few handlebar manufacturers display the two crucial numbers needed to do so: stack and reach from the center of the bar at the clamp to the center of the bar end with the bars parallel to the surface plate. Instead they list rise and sweep, which aren't helpful.
You can see an example of what I'm talking about on Surly's website.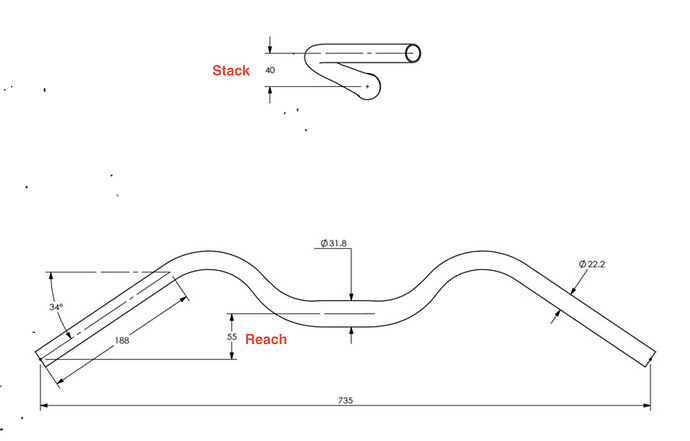 Let's create a list of handlebar dimensions in this thread as a convenient resource. Please note whether you've personally measured them (*measured) or whether you received the info from the manufacturer (*source).
Here's a few to get started:
Hunter Smooth Move Low Rise source
Stack: 15mm
Reach: 85mm
Hunter Smooth Move High Rise source
Stack: 59mm
Reach: 85mm
Jones Loop 660mm measured
Stack: 0
Reach: 110mm
Jones Loop High Rise 660mm measured
Stack: 63.5mm
Reach: 110mm
Myth Cycles Lomoto Ti 800mm source
Stack: 50mm
Reach: 44mm
OneUp 20mm cut to 780mm measured
Stack: 14mm
Reach: 52mm
Soma Dream High Rise measured
Stack: 53mm
Reach: 120mm
Soma Dream Low Rise measured
Stack: 26mm
Reach: 87mm
Stooge Moto Bar source
Stack: 38mm
Reach: 100mm
Salsa Salt Flat 720mm measured
Stack: 0
Reach: 40.5mm
Velo Orange Crazy Bar v2 measured
Stack: 40mm
Reach: 109mm
*Forgot to mention that Peter Verdone has published lots of bar measurements on his website, including most of the latest SQ Lab handlebars. It's a great resource.