We're all too use to seeing beautiful builds and process pics on Instagram and social media, but let's have a fun thread where we talk about when things didn't go right and what we learned. We're all human after all and mistakes happen. Are you secure enough to post your failures?
Had this experience tonight working on frame #17 - a gravel bike for myself. I had the front triangle mitered and all ready to weld but had about an hour time limit before wife mandated grocery pickup. Against my usual procedures, I quickly placed a small tack at each top side of the DT/TT instead of my4 tacks on each quadrant. Welded the front triangle just fine but when I sat the frame back up in the jig, my headtube was seriously tilted. Like 10 degrees.
Shit. I've never tried cold setting a frame due to various reasons but I decided it's the only thing I can do. I had some 3/4" threaded rod about 3ft and bent it trying to twist the HT back to no avail. Not messing around, I grabbed my 6ft bar of 1" brass and went at it with all I had.
Until the head tube finally yielded…along with the TT and DT.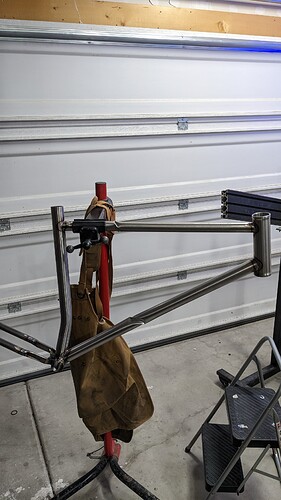 More photos here in this imgur album.
Well shit. I ended up cutting out the TT and DT, and will try again. This time making sure the tubes are appropriately tacked before going at it. It's interesting to note that the tubes gave way at the water bottle holes. And I applied enough force to yield the PMW headtube.
So that's my mess up for today, what's been yours?