Hello
First post, first time building a frame. I absolutely love steel bikes and I like to build stuff myself. I have a huge task, I'm slowly learning and maybe finally I can make it happen. I'm sharing my ideas because maybe there is something very wrong with my plan and the more experienced can spot it and I can fix it.
Trying to go for KISS - keep it simple stupid path. Designed this enduro bike to have 160mm rear travel using 230x65 air shock, and 170mm fork. Linear leverage ratio. Main pivot bearings inside rear triangle - copying Curtis rear triangle.
I got lift arc tig without pedal and I'm currently practicing on 35x1.5 tubes, this is currently the hardest part. I got access to mills and lathes and I know where I can get the tubes.
Tubes are Columbus straight gauge:
TT - 35x0.9
ST - 35x0.9
DT - 38.1x0.9
BB - 40x73 English thread
HT - 44x120
Rear triangle - Can't decide if I should go for 19x0.9 or 22x0.9 tubes.
I weight only 72kg so I'm thinking should be tough enough.
I have done some static stress test on the front frame, this is why I have added the extra tube to take a little stress away from DT. My skills are not good enough to simulate the rear triangle, I keep getting a lot of errors. So probably will go for 22 tubes.
Model: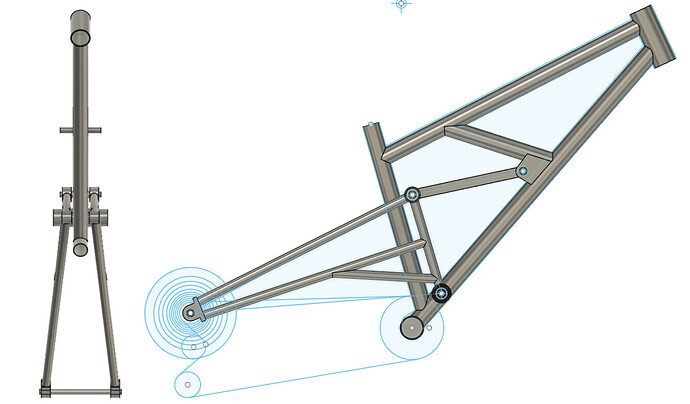 Nex post some linkage pictures.