I am working to advance my skills and accurately model the rear end of a bike so I can create bending dies and check for caliper clearance with dropped seat stays.
This is my FIRST complicated assembly in solid works and I am struggling with it
What I have done so far-
1-Made BB shell and Mated to Origin
2-Made Thru axle and created a Plane 72MM above Top Plane and a Plate 325 behind Front Plane. Mated Axle to that location
3-Imported Left Dropout and Insert from Paragon and mated- I cannot figure out how to make a sliding relationship though…
4-Modeld Seat tube and Chain Stay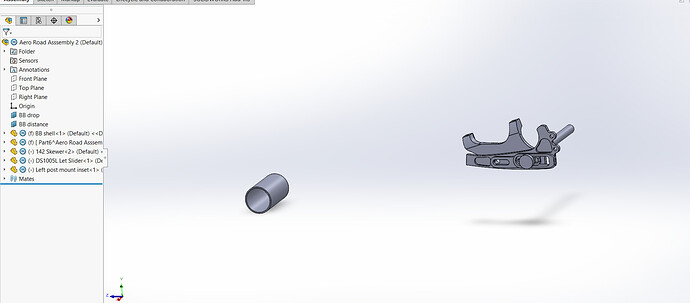 Now where I need Help!
1-How do I give the Drop out "Tilt"? I want it to be more similar to the angle of the Chain stay and I want a slight BB drop adjust for when I change from Road to Light Gravel modes.
2- How do you get the Seat Stays to intersect Seat Tube and Dropouts???
Any help is greatly appreciated. I have been watching hours of YouTube and this project is beyond what I am learning there.