an introduction to me:
Im long-winded when I write, I think its because I feel the need to establish context thoroughly, I do try and be concise, I honestly do, I guess I think a lot of stuff is important and im usually looking for a thoroughly considered response…
I've been kicking around on the forum with some small contributions for a while and enjoying the space and community, now it feels like the time is ripe for a build log; both to (hopefully) give something small back to this great community, and also to ask for help; mine-the-hive-mind a little for some solutions.
Im a hobby builder who's built about 60-70 frames, mostly of the 'rigid' road/CX/track variety, but a few full-suspension mountain bikes too (all by shoe-horning off-the-shelf suspension components into a front triangle of my own design). i've previously had short periods of building frames full time but have settled on more of a slow-burn approach as a happier way to keep building bikes and loving how I do it.
I don't usually document /much/ of the building I do, but having recently moved to Cairo (Egypt) im struggling to really engage with a frame building or industrial design community IRL like I would at home (in New Zealand), so moving this online is also my attempt at engaging with people for that shared enjoyment.
Finally this idea had been kicking around in my head for quite a while, and yet its still got some pretty curly details, so i'm hoping I can draw on the wider knowledge of you folk to bring this design up to a level where i'm happy with it.
an introduction to the context:
I'd like to build a frame/bike/system which I can, with relative ease, switch from being a competitive and elegant solution for racing individual pursuits (on a velodrome) to being a decently-configured road time-trial bike.
Straight off the bat id like to acknowledge that a lot of this is about aesthetic. people can be fast AF on just about any-old jerry-rigged aerobar/ bolt on derailleur setup, and that's rad; in fact that's am important part of what I love about bike racing, but that's not what I'm after this time around. another important part of what I love about bike racing that it can also be an accessible space to design and build stuff in ways that we choose, and this lets us lead it (the racing experience) where we want it to go. So, Id like to build a bike that showcases my design ideology in a beautiful way, which I feel really good about "racing in both disciplines at a competitive club level".
what "racing in both disciplines at a competitive club level" means;
Occasional, targeted weekends of individual pursuit races on (potentially varied, but likely mostly what will be my "home" two velodromes (indoor and outdoor)) , with practice sessions in the build up weeks/months. these don't happen all the time but aren't /uncommon/ throughout a season. upon my return to wellington id like to invest more energy in having a IP season and doing more of them.
in-between these periods, racing road TT's (or team triathlon events) these are a lot more accessible (especially here in Egypt), most of the opportunities for organised racing here are TT's of some description. there's a tt club at home in nz ive never joined because ive never had a tt bike.
I've previously held our club hour record, given time, id like to hold it again.
an introduction to my ideas (as they stand at the time of this first post,) for the bike
so its just a rim brake TT bike that has a spare, 130mm spaced fixed gear rear wheel?
well, yeah; on the surface.
on a slightly deeper level, i'd like the bike to have some specific capacity for position-adjustability, and I feel there's potential for some nuanced details surrounding brakes, drivetrain, etc.
drivetrain:
[this is the most resolved area in my mind. mostly because of the ease of adding/removing an AXS rear derailleur.]
on the track, a normal fixed gear drivetrain is a bit of a must, I have a full set of 1/8th" cogs and chainrings (144bcd) which I use for mass start racing, its not uncommon to want to change ratio for an IP based on conditions, especially in an outdoor velodrome, so having a "normal horizontal fork-end" type dropout is making sense to me at this point.
unless someone else figures out how to make non-round chainrings work more nicely than I've been able to on a fixed gear drivetrain (and believe me, I've tried…) , ill need to keep running round chainrings for track use, so using the existing set continues to makes sense here for this reason too.
i've been known to run cranks anywhere from 165 to 210mm (zinn ftw, but not really) on various track bikes i've built over the years. pedal strike has never been a problem, but I believe only because i've designed frames around a certain crank length/ pedal width. on the track i'm likely to run shorter cranks and a lower relative front end for a pursuit than I would for an hour record attempt, and I currently believe that having the BB as low as possible is an advantage.
on the road, Im imagining a 1x (10,11,12 whatever) setup using a sram apex AXS rear derailleur (which I can remove, maybe along with the derailleur hangar too,) and some fancy electronic button shifters I can leave in the aero-bar extensions all the time. I have no real desire to shift from the base bar, this means no cable or wire routing changes for the drivetrain, which is pretty nice.
ill definitely use an oval/non-round chainring on the road with an appropriate road chain. i'm happy to make one or two of these in 144bcd and thus keep track cranks on the bike for both setups, I have a range of track crank lengths I like to experiment with.
Wheels
[basically solved, I think]
I have a tubular zipp rear disc that (to the best of my knowledge) uses the zipp 182 hub. I only have a track axle for it, but making/aquiring a road axle that takes a freehub body should be achievable. this wheel IS a little narrower than id like on the road but that's OK, if a notably better solution becomes apparent, I'm not averse to spending some money on a new disc that works for both if it improves both setups.
front wheel will likely a deep road wheel or maybe a fancy 3/4/5 spoke rim brake-compatible option. pretty easy and common to swap this out on any given day/ for a specific event provided its a rim brake option on/from the road.
brakes
[totally up in the air, help]
I definitely think rim brakes of some description here are the best solution, given the existing rear aero-disc wheel that can work for both, the simplicity of setup, and the ability to sit around unused in a cold damp workshop parts-box for 6 months without developing issues, but i'm wrong all the time, so I'm interested in opinions here.
I'll be building a fork (more later) so introducing a single-bolt rim brake hole in the normal place seems like the obvious solution for the front. having an entirely external cable here seems like its going to be the simplest way forward without being pretty annoying… but I also don't feel like its ideal, you don't see exposed cables on fast moving (or good looking) fish or birds. I don't need full bar tape on the base bar so that wont cause problems; some grip tape will be ok.
the rear brake is a little trickier. potentially under the chain stays becomes an option, I feel either way requires a removable cable-routing solution. I have thought about omitting the rear brake entirely it, but I come back to thinking it is best to have one, especially given it'll be in and out of track/road mode, and thus the likelyhood that I'll set this up into road-mode and ride straight out the door on it is high.
Im not completely adverse to simply helicopter-taping a fully housed cable to the frame somewhere discrete, with some critically placed zipties for added run-what-you-brung-but-dont-die-doing-it factor.
BB
[here is where the madness sets in]
I think I want an EBB or maybe a VEBB (v is for very)
racing a track with 200mm cranks requires some serious bb height.
racing a short road tt with cranks that could be as short as 165 I believe would be much better with a far lower BB.
ive been doing some drawing of a simple ebb that could move between 55mm and 70mm of drop, but I think for all the Pfaff id like more range, 40 through 80 (mm drop) would be ideal.
this is a pretty unusual requirement, and thus its both not really serviced well by… well, anything.
I think I likely involves a pretty massive bb-shell-thing and machined insert which both might get quite heavy, and potentially pretty annoying to make.
it means the positional requirements of the saddle and handlebars will move A LOT in order to maintain relative position, and on the track these can also be limited in reference both to the front axle and the BB, AND my position is usually already on one or more of these limits. so it becomes a bit messy. it also potentially makes rear-brake-mount positioning more complicated.
positionally I really don't need to move the bb forward or back, just up and down…
though sometimes, say for a record attempt, being able to tuck the rear wheel right in behind a shaped seat tube with any gear ratio on the track WOULD be kind of nice.
tubing
i've ordered and have a handful of options of streamline 4130, its often a case of what is available and what I can make myself here. but notably proformancemetals.co.uk have a wider range than most and seem happy to do small amounts to order.
I'd like to build a very narrow hinge-fork style front end using some very small headset bearings from enduro. my current design has it sitting at ~28mm head-tube width. i've attached a couple of draft drawings.
in this design the stem would form a critical part of the headset assembly, and bolt directly to the fork, (which extends upwards infront of the head tube,) with a ~10mm bolt-esque "steerer tube" being added through the head tube from the bottom, and secured with a couple of pinch bolts as the last step of assembly.
I think this means integrated/proprietary handlebar, and im keen for that, or at least the base-bar ( given a potential need for adjustability to meet bb/cranks changes and other fitting requirements having aerobar options might be good,) with potential for a one piece mass-start or sprint front end being fittable, though this isn't really a priority. I have another track bike I'll do those races on.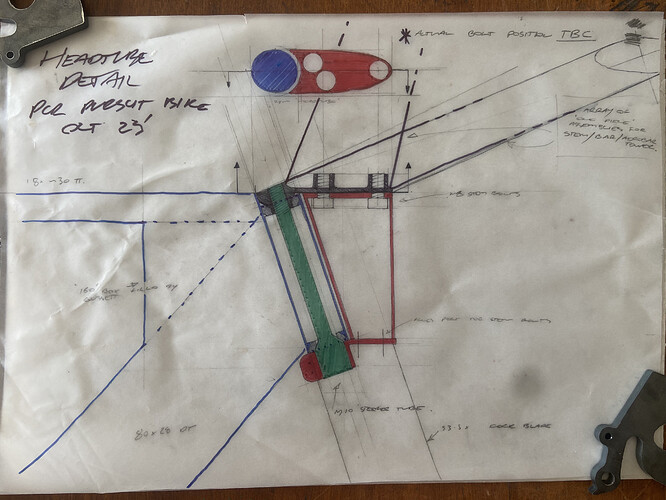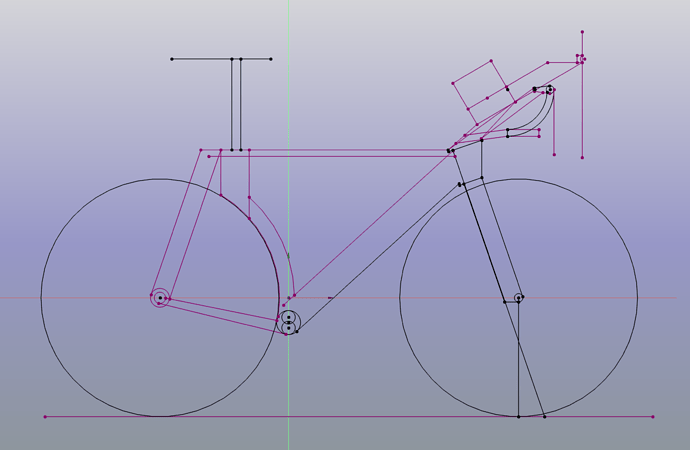 the baby elephant in the room
this bike isn't going to be uci legal and that's OK.
while bike-NZ operates under uci rules, our local track racing club, like I imagine many clubs that aren't basically pro-teams, operate on a more casual basis, something along the lines of "is this providing an unfair advantage or creating an unsafe scenario" seems to be the modus operandi observed by our organisers, im not the only one making stuff and this really helps harbour innovation and engagement-with-making-stuff at our club, which is pretty cool.
I do need to fit inside uci rulings around position, and while blatant disregard for the intent of the rules to try and gain an advantage is neither where id like to lead our club environment, nor likely to be looked on kindly by my peers or the commissaires, breaking design rules because it makes the seat tube damn cool and also I had a handful of the curved tubes rolled before I learned about a design rule change, that'll be ok…
road tt's are a totally lawless environment, triathlons even more so no worries there.
if I end up getting DQ'd racing somewhere else, well that'll be a shame but ill suffer it.
that's a mammoth, thanks for reading, I welcome your thoughts.